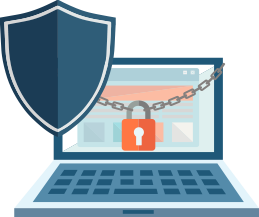 Total AV operates fantastically with Windows, Mac, Android, and iOS.  Integrated user-efficient and helpful features such as automatic cleanup and system booster enable users to maintain their computers in a healthy and viable fashion.
Analysts and other websites have come to the same conclusions as we have: Total AV is one of the most easy-to-use and user-friendly antivirus software products on the market. The download, installation, and configuration processes are relatively effortless and do the majority of the work for the user. Here at AntivirusRankings.com we agree, as we installed it on various devices with no issues.
We were particularly impressed with the aesthetically appealing, bright and clean design of Total AV's website and the easy access to all of its most important and frequently used features.
Total AV is distinctive in that it comes with a password management system, disc cleanup, system boost, and a full VPN system that so many lesser competitors are lacking. These features are typically found only on antivirus software from industry giants that have been in business for far longer.
Complete protection from Total AV costs $59 per year and is thus just a tad more expensive than its competition. Notably, however, with Total AV, users are given five licenses instead of the single license given by most antivirus programs. Essentially, the price is a bit higher, but in the end, you get more bang for your buck, in terms of licensing. If you don't need that many devices, Total AV offers a single device license for only $19.99 - making it the most feature rich and inexpensive product available in on the market.
Fast, efficient, and just plain simple to use, Total AV is a great option and our Editor's Choice for Antivirus Software.